Kalibr8 sees the future of cloud management differently.
We've built an automated platform that helps measure, manage and master cloud investments.
Are you ready to Kalibr8 your clouds?
Kalibr8 is built by MSP experts for MSPs.
No Scripts – No Coding – No Hassles
Kalibr8 cloud optimization SaaS delivers automated and easy-to-use cloud-cost solutions to organizations through Managed Service Providers and Distributors. Kalibr8's automated cloud optimization capabilities allow MSPs to manage their customer's cloud resources easily.
The Kalibr8 team has been working with top MSPs over the past few years to design an advanced platform that captures data from the three largest cloud platforms in the world – Microsoft Azure, AWS, and Google Cloud.
We didn't assume we knew what they wanted and needed – we asked them and, with their guidance, design a "single pane of glass" portal that makes it exponentially easier to understand and control – to calibrate – cost and value across multi-cloud environments.
We emerged out of stealth in early October 2022 with a fully functional offering for Azure and are fine-tuning similar offerings for AWS and Google Cloud.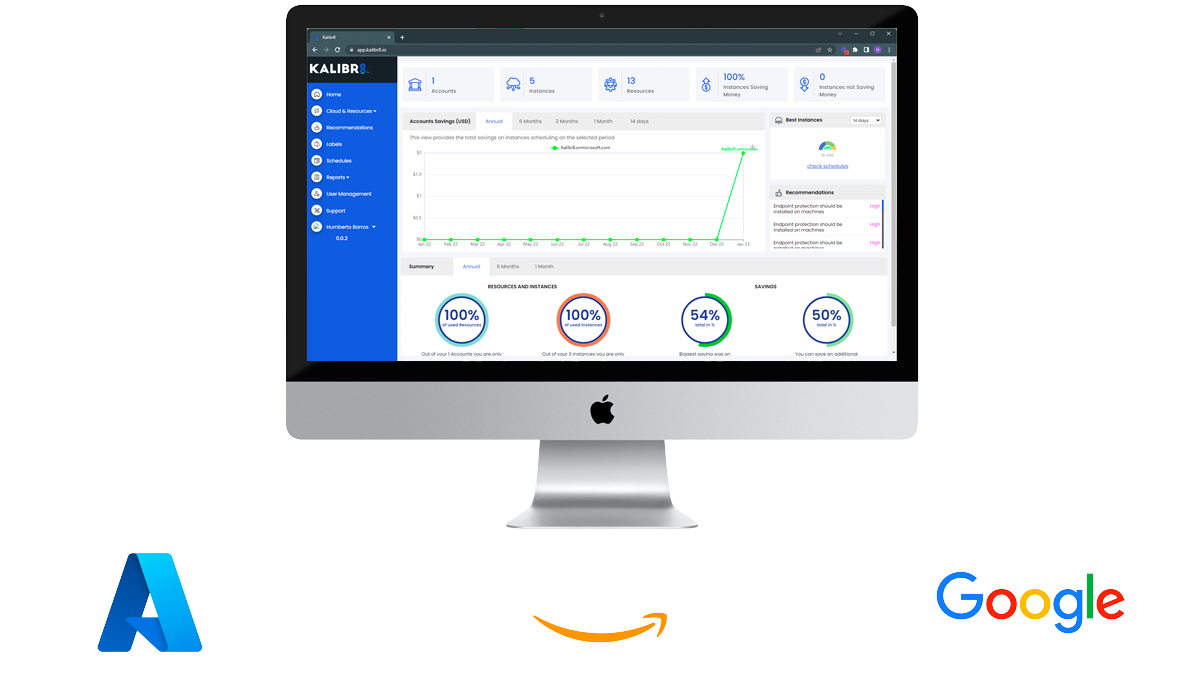 More than just a team: true believers.
Our purpose goes beyond helping MSPs help themselves and their customers to get the most out of their cloud spend. Our passion is to contribute to the reduction of carbon and overall energy consumption in the cloud computing industry to help reverse the dire consequences of climate change by calibrating new ways to do more – for less.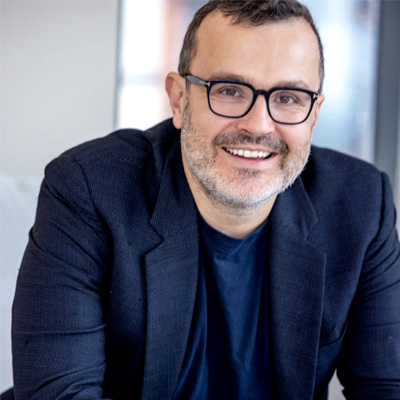 Co-Founder, Managing Director, CEO, Board Member
Ben McGahon is Co-Founder and CEO of Kalibr8. An experienced entrepreneur and managing director with over 20 years of experience in the technology sector, Ben is a technically and commercially minded business leader with a proven track record of growth. Prior to founding Kalibr8, Ben was Co-Owner and Managing Director at Comsys, based in Dublin, where he successfully managed the acquisition of Comsys by Evros Technology Group, now EirEvo, in 2017 and grew the enterprise division from 5M to 25M in three years. As Managing Director at Comsys, Dublin, Ben completed a management buy-out of Computer Systems Sales in 2005 and drove double and triple digit growth annually between 2008 and 2013. His accomplishments included certified partner agreements with DELL/EMC, Oracle, IBM, VMware, and Sun Microsystems.
Comsys become known as Ireland's leading high-end enterprise IT design and implementation company, winning multi-million-euro contracts in Irish Water, Coca-Cola, McKesson, Medtronics, AIB, Irish Life, IBRC, Boylesports, PWC, Analog Devices, BNY Mellon and more. Comsys led the Irish market in the adoption of next generation technology, designed the first Converged and Hyper-converged solutions in Ireland in 2013, which today have become the standard.
Earlier in his career, Ben served as Managing Director at Visual Glue, Dublin; Visual Glue was formulated to provide digital signage and solutions to the Irish market. Previous to this, Ben served as Business Development Manager at Computer Systems Sales Ltd., Dublin. Ben attended Blackrock college secondary school and holds degrees from University College Dublin, and earned an MBS, Business Studies, at the Smurfit Business School, Dublin.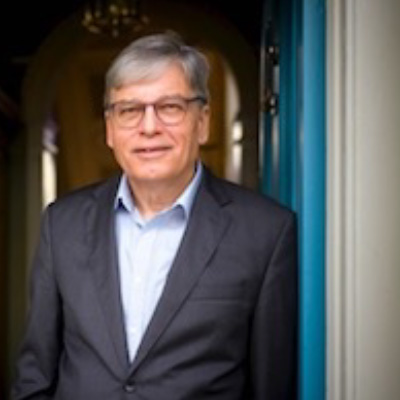 Paschal Naylor is Chairman of the Board of Kalibr8. He was the co-founder and former CEO of Arkphire, the Irish IT Consulting, and managed-services company that was acquired by US tech firm Presidio in 2021. Paschal is a chartered certified accountant (FCCA). He is also a graduate of the Marketing Institute of Ireland and holds a BA in Psychology. He has a Diploma in Company Direction from the Institute of Directors (IoD).
Arkphire was established in 1981 when it was known as Memorex Telex. After a takeover in 1998, it rebranded as EDS Global Services before becoming A&O IT Systems & Services Ireland after it was acquired by the German-owned IT provider AO Group in 2006. It returned to Irish ownership in 2009 following a management buyout and relaunched as Arkphire in 2011. In 2018, Arkphire secured a multi-million investment from London-based private capital firm Bregal Milestone in late 2018 to aid growth. In 2019, Arkphire set up operations in Singapore, appointed a Head of Asia Pacific to spearhead the business as it targets growth in the region.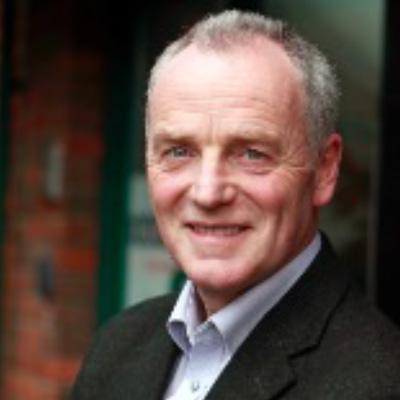 Howard Roberts is a member of the Kalibr8 board. He also serves as Head of Technology and Professional Services at Arkphire. Prior to joining Arkphire in 2006, Howard was Technical Director with Xnet Information Systems, Country Manager for Redstor Ltd and Principal Consultant with Sabeo Technologies Ltd. Howard was Technical Director for Softbank Inc. in the US throughout the 1990's, with primary responsibility for the design, implementation and management of voice and data systems for Softbank's call/data centers across North America. He has a Degree in Computer Science from Trinity College.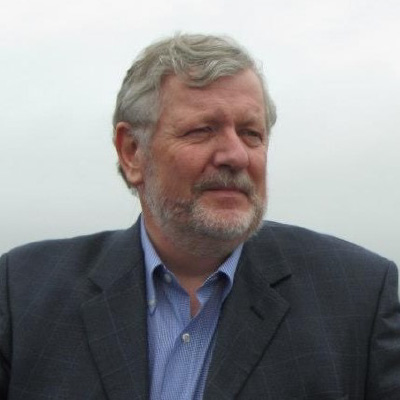 Dermot Benson serves as a director, co-founder, and Board member of Kalibr8. He is an executive consultant expert in leadership development, team building, corporate training, change management, executive mentoring, management consulting, business consulting, and individual motivational focus. His passion is helping unlock performance awareness in people and teams.
Dermot has held senior executive positions in financial services, international distribution and has worked extensively in Ireland, UK, Europe, the Far East, and South America, and has provided business consultancy across print and broadcast media, legal services, accountancy, construction, IT-multinational organizations, charities, franchisee operations, transportation and logistics, international distribution, export and import, leisure, online, public relations, healthcare, financial services and software.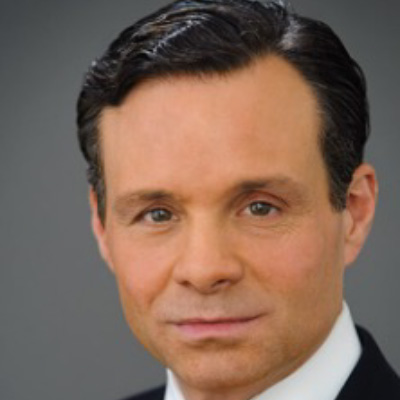 Alex Russo is a member of the Kalibr8 Board. He has led a series of tech-driven, PE-sponsored global companies over the past 20 years, serving as Executive Chairman or CEO of four PE portfolio companies and managing their sale for $1.25 billion in cash, representing a cumulative shareholder return of >3X. A prolific dealmaker, he also cofounded and/ or privately invested in and advised a range of start-ups across the tech sector. Prior to his chief executive roles, Alex served as General Counsel of both public and PE-controlled companies and, previously, as an M&A attorney at Skadden, Arps in NYC.
David Walsh is a member of the Kalibr8 Board. David has been a disruptor and innovator across a range of technology driven markets over the course of his 30+ year career. A proven fintech and technology leader, he has built, scaled, and sold companies from start-ups to global enterprises, generating billions of cumulative gains for investors and management teams by combining his vision and operational expertise while serving as Chairman, CEO or President of four publicly traded companies.
Azure, AWS, and Google Cloud in a single platform
Automated functionality / Automated governance / Automate monitoring
Designed specifically for MSPs, not an MSP version of an openly available platform
Managed, automated schedules, PaaS scaling, and optimization of end user cloud resources and budgets
Attractive economic incentives for distributor and MSPs
No Scripts – No Coding – No Hassles