TechTarget's global 2023 IT Priorities Survey, which polled more than 1,600 respondents, reveals that 63% cited cybersecurity as an urgent matter and a broad technology initiative that has become more important over the past two years, making it the top-ranking choice out of two dozen categories.
The move to and need to manage cloud complexity and growth came in as a close second, which makes sense aligned with cybersecurity which itself is moving headlong into the cloud. While we've traditionally thought of the cloud as the basics – compute, storage, and applications – this year, the report confirms the growth of entire ERP systems being delivered as a service on the cloud, which naturally drives the need to protect those systems and make sure value is being derived in the transition.
TechTarget's poll included respondents in Asia Pacific (APAC); Europe, the Middle East, and Africa (EMEA); Latin America (LATAM); and North America (NA).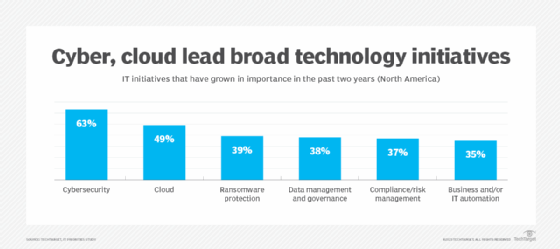 What does this mean for MSPs?
More growth in an already consistently high growth market – with IT budgets on the rise despite economic uncertainty, and especially in the cybersecurity and cloud realms, respondents said they were most inclined to use third-party partners such as MSPs.
These trends are impacting every size of the organization, from SMBs to large enterprises.
Cybersecurity and cloud are often mentioned in the same breath when it comes to key spending areas, and we can expect them to become even more intertwined. When revealing the results of this year's survey, the team at TechTarget noted that in 2022, a survey conducted by their Enterprise Strategy Group (ESG) identified cybersecurity as the leading technology sector for increased investment, followed by public cloud applications. Those technologies also ranked first and second in ESG's 2021 spending plans survey, with cloud ahead of security.
More than half of the survey respondents have adopted a cloud-first approach, noting that it is, in fact, digital transformation initiatives that are fueling cloud growth while also putting a spotlight on cloud economics.
"The nature of cloud projects, however, is shifting from mass migration to refinement and optimization," TechTarget said.
Cloud Confidence™ has never been more important – know your cloud, know your costs, and don't be the victim of bill shock.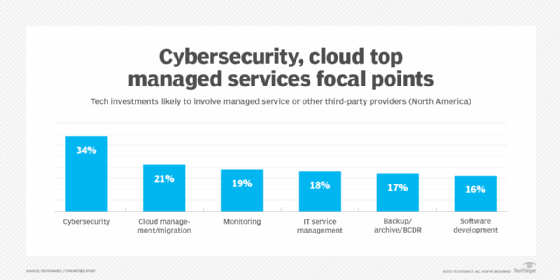 MSPs who understand the priorities of their customers, whether they are SMBs or medium-sized, large enterprises, will continue to win.
Organizations are most likely to use managed services in cybersecurity and cloud migration.
IT departments frequently lack technical depth in cybersecurity and also face a dearth of cloud skills, making outsourcing a common remedy, the report said.
Follow the money.
A business's ability to realize its IT priorities depends on available funding and money is flowing with funding increasing this year, according to TechTarget's related tech budget outlook. MSPs who understand the opportunity for growth – and the opportunity to be a partner with their customers in ensuring every penny they spend on cloud is a wise one will position themselves as truly "value add" because cloud costs cannot just go up – cloud costs must make a tangible difference in keeping organizations competitive and profitable.
Instead of blindly growing the cloud for all the right reasons, MSPs are in a unique position to bring next-level cloud insight, cloud control, and Cloud Confidence.
We call this "Costimization" – optimizing the cloud while controlling costs in the process and over time.
If you're an MSP who is ready to grow in the right way across all cloud-delivered services – including cybersecurity –, let's meet and let's plot your course for not only participating in the rise of MSPs but being a leading MSP with the best tools for cloud planning, management, and optimization.